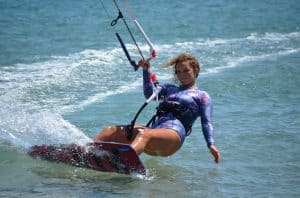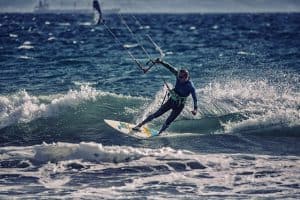 Tarifa, because of its geography, is located in a privileged place because of its beaches, its climate and its winds for the practice of kitesurfing. The history of kitesurfing, as we know it today goes back a few 20 years ago, but the idea is not new.
Already by the twelfth century, Polynesians, Indonesians and Chinese, used as propellers, comets in their fishing boats.
In 1970, the Englishman Peter Powel invented the 2-line kite, and built a kite in the form of a delta with which he sailed in small boats.
In 1977, the first patent for kitesurfing was made. It never came to be commercialized, but describe a sport that uses surfing with a kind of "parachute" joined by a harness.
The most decisive factor in the creation of kitesurfing as a sport was in the 80s, when the hand of brothers Dominique and Bruno Legaignoux investigated the creation of a kite capable of re-launching from the water without the help of third parties to date. there was none. After 10 years of development, he managed, with the help of Neil Pryde, to commercialize four-line kites.
In September 1998, the first Kitesurfing competition kicked off in Maui, kicking off a new sport.
This fact produced an explosion of new kitesurfers. Shortly after, at a rate that until then was flooded with windsurfers, little by little kites left.