Tarifa, being the paradise of the wind in Europe, has over time become one of the most fashionable tourist destinations when summer arrives. It is a town full of tradition and charm that has made thousands of visitors fall in love with it. And there is much to see in Tarifa and therefore whoever tries once is left wanting more. This town is the south of the south itself and it has everything. There is much to do in Tarifa, from family or adult leisure to fun proposals for young people, so we want to present to you this complete guide with all the incentives and plans to enjoy the fullest of tourism in Tarifa.
TO DO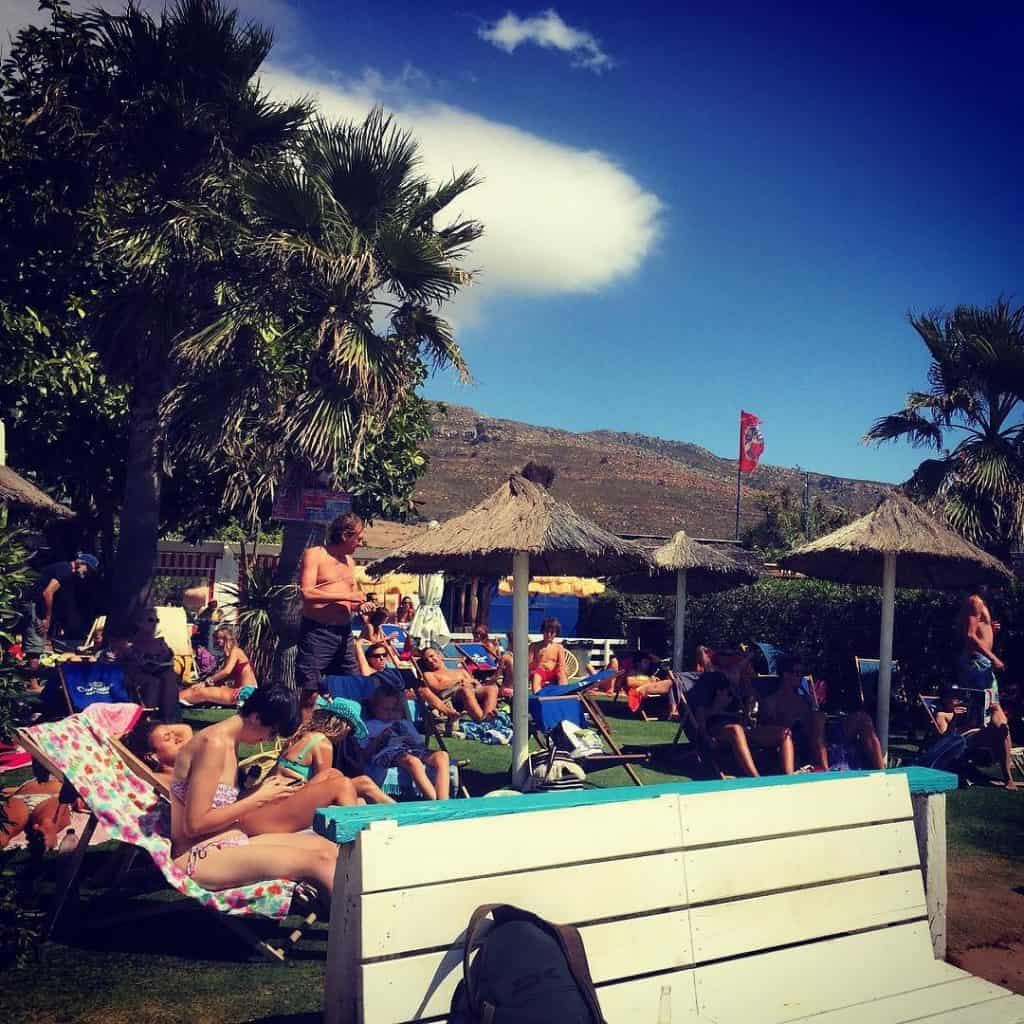 Shopping in Tarifa
A very curious fact about Tarifa is that even with only 18,000 inhabitants, it has more surf shops among its streets than Maui (Hawaii), so if you want to equip yourself well to enjoy the best and most fun water sports, don't hesitate and come at a rate since its offer is very wide and you will surely find what you need. There are also several supermarkets such as Mercadona, Lidl or Día that are open 24 hours a day, although if you have to do some shopping we recommend that you go to the Mercado de Abastos in the historic center.
Tarifa, like other towns on the Costa de la Luz, you fall in love with the food, and we are talking about a coastal area in which the products of the sea take the gastronomic prominence in its bars and restaurants. In Tarifa there are many good restaurants to enjoy the best culinary proposals, one of the best is the Pachamama , where you can enjoy a relaxed atmosphere and an extensive but delicious menu, also in its facilities you can enjoy a pool that we assure you that for those days of Levante in those who are on the beach is impossible, it will suit you like a glove. ( Google Maps ) Another highly recommended restaurant is Mandala, because here you will enjoy both excellent food and a personalized and professional treatment. Mandala is the ideal place to eat and then have a coffee with a drink while you take a swim in its pool overlooking the sea. ( Google Maps ) On the other hand, if you decide on Souk, you will enjoy the best mix of cultures since here you will enjoy the perfect fusion of various cuisines, from Moroccan specialties to dishes with Asian touches. ( Google Maps)
Nightlife in Tarifa
Although Tarifa is a relatively small town, its range of pubs, bars and discos has nothing to envy to other places of much greater scope, it must be said that before 9 o'clock at night nobody goes out to dinner or tapas, since visitors usually stay on the beach until late.After a good dinner or a fun pub crawl with their corresponding wines, beers and tapas, of course, the party night begins, we will start with the locals that are in the old town . In Tarifa, due to the large number of visitors it welcomes, you can find everything from Flamenco venues to bars with electronic music, all these venues are open until 1 or 2 in the morning, which is when the clubs open until 7 or 8. in the morning
Adventure sports in Tarifa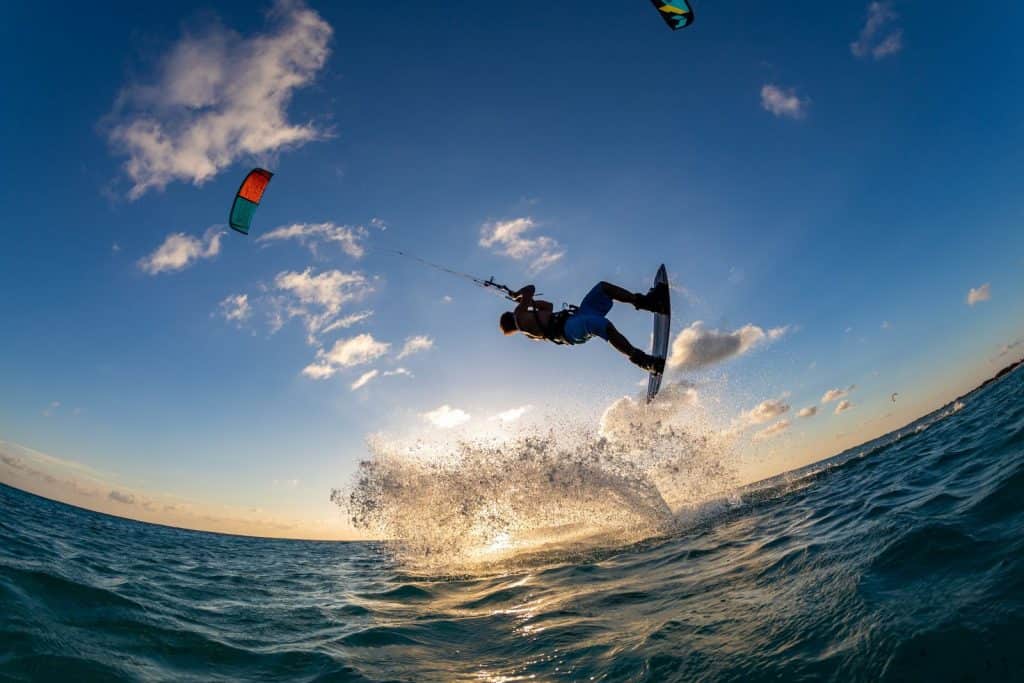 Tarifa, as we have already indicated, is the Capital of Wind, but this place goes far beyond the practice of windsurfing or kitesurfing, because here you can also enjoy a wide variety of fun outdoor sports. , surfing or windsurfing, this town also allows you to enjoy other activities such as diving, climbing (on Mount Betis, the mountain that separates Bologna from Tarifa, there are more than 200 routes marked, of different and varied levels to practice it), diving, golf, paddle, horse riding, mountain biking, tennis, paragliding or hiking.
WHAT TO SEE
Dream beaches The beaches of Cádiz and therefore those of Tarifa have earned the reputation of being one of the best in the entire Peninsula and an example of this is that here you can dive into some of the most impressive in the country.
Bolonia beach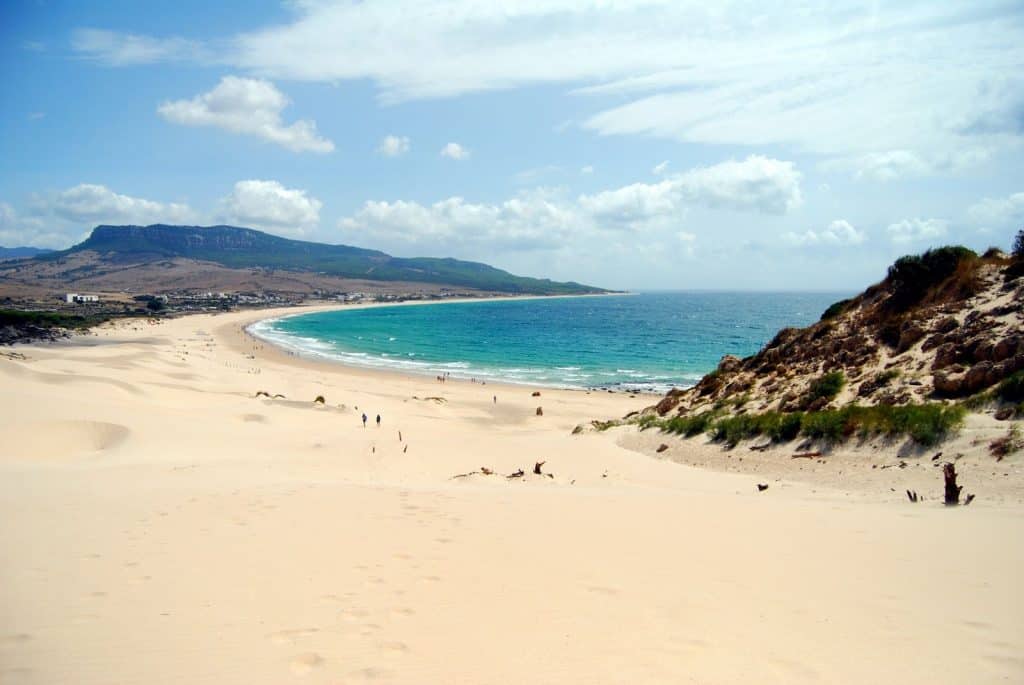 This beach is incredible, almost certainly one of the best on the entire Costa de la Luz. It is about 4 kilometers long and is next to the remains of the ancient Roman city of Baelo Claudia. In the western part there is a dune area that in 2001 was declared a national monument. A unique place that is worth visiting. ( Google Maps)
Punta Paloma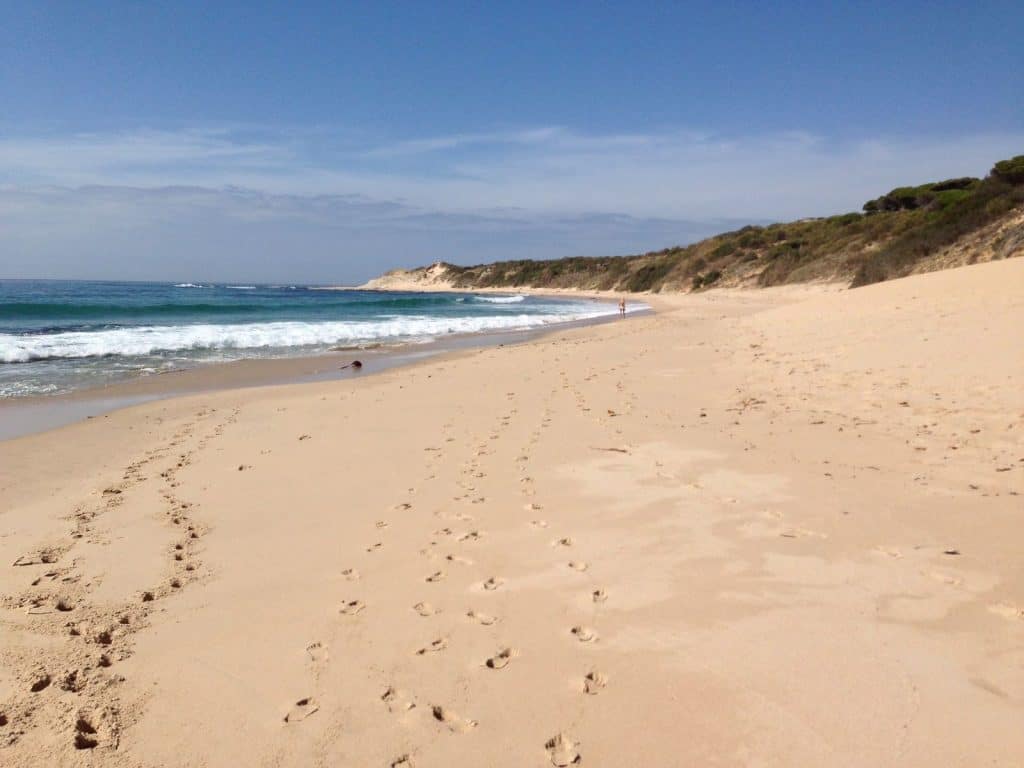 This area is located about 10 kilometers from Tarifa and it is an area that is very worth going to see since from here you will enjoy spectacular views of the town from the extensive dune., so set aside a couple of hours of your vacation to take a leap to this fabulous place. However, in this area there are many places both to take a dip and to walk without having to step on the mainland since you can pass through Los Lances, the part of Dos Mares, Arte Vida and Valdevaqueros , the latter is preferred by lovers of water sports. ( Google Maps)

On route through the narrow streets of Tarifa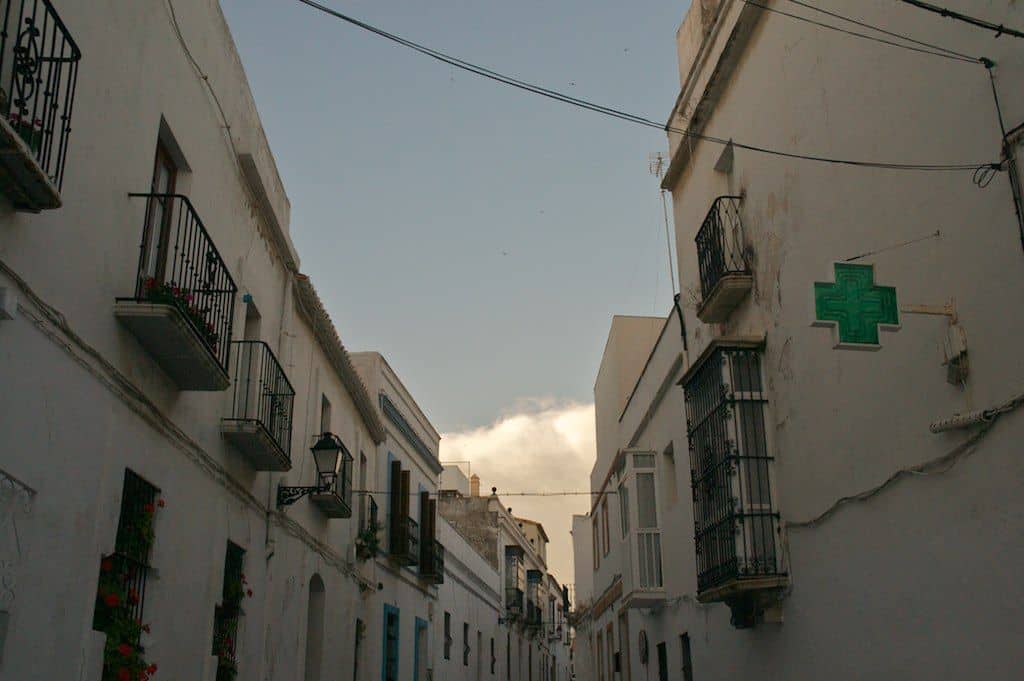 If you visit Tarifa it is essential that you take some time and walk without a predetermined destination through the streets of this town because in this way you will enjoy places as beautiful as the Royal Prison, the Casino, the Town Hall or the Castle of Guzmán el Bueno, from which we will talk next.
Visit Guzmán Castle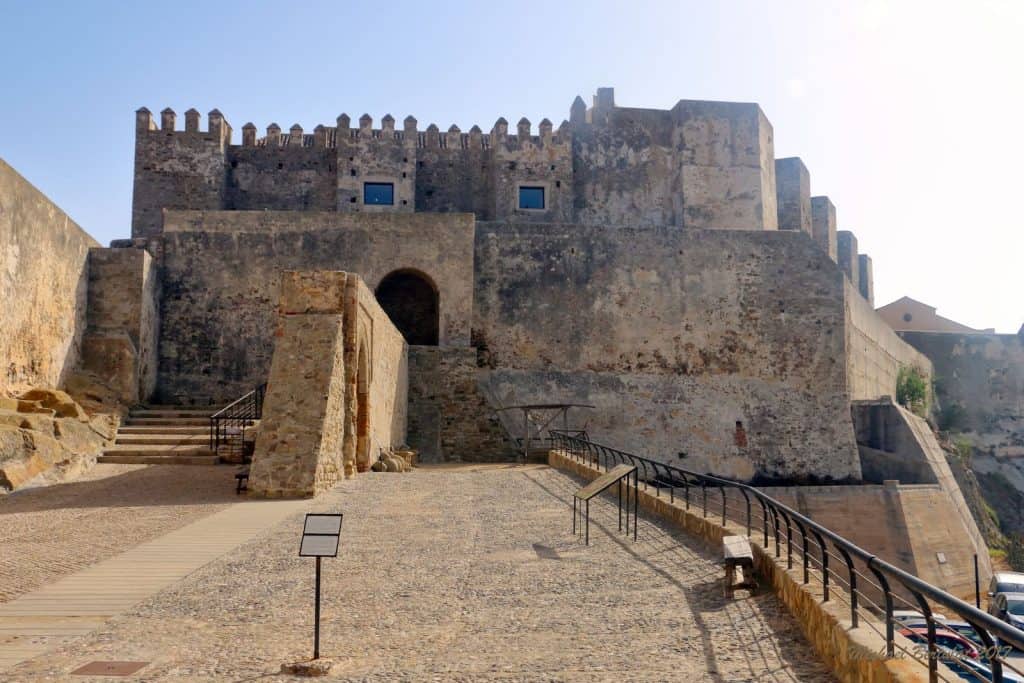 In Tarifa , more specifically on Guzmán El Bueno street, you will see one of the best preserved castles in all of Andalusia. It was built in 960 by Abd-ar-Rahman III. However, it currently bears the name of Guzmán el Bueno, the Christian governor who defended the city from the Muslim incursion in 1294, even sacrificing his own son. Taking a walk through its walls will cost you € 4, although if the day is clear you can even enjoy an incredible panoramic view of Africa. ( Google Maps)
Isla de las Palomas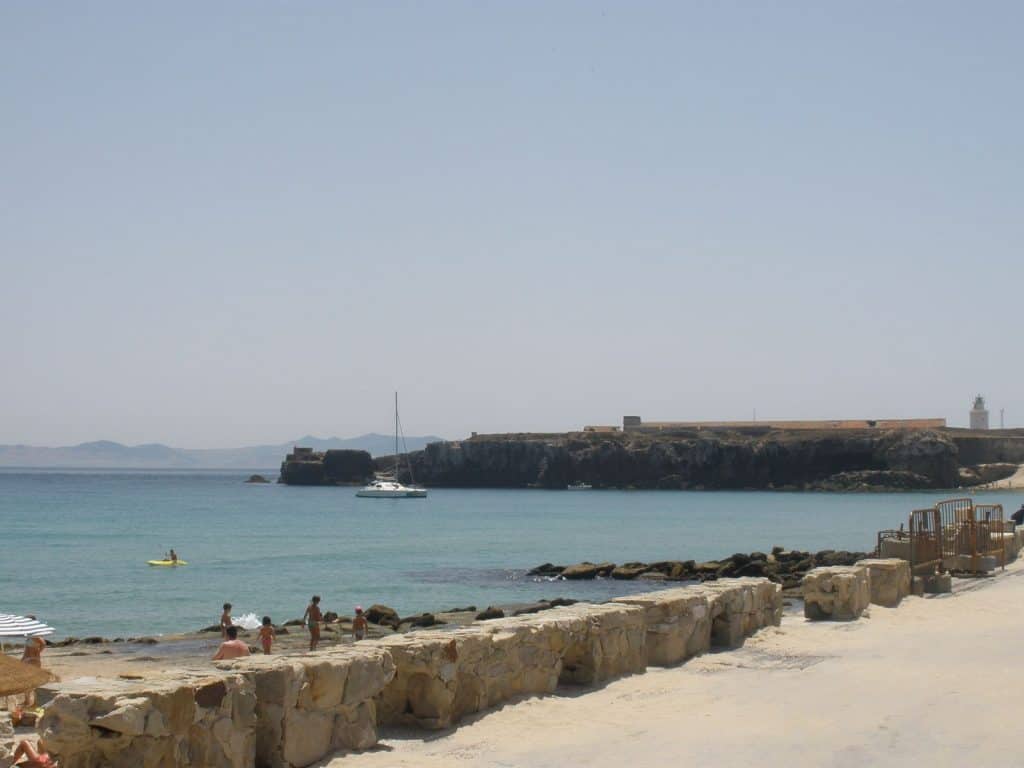 After visiting the Castle of Guzmán el Bueno, you can approach the Isla de las Palomas road. This place is a path that was projected with the intention of joining the aforementioned island with the Peninsula, its path will take you to a military base, that is the end of the journey since its access is very restricted, however there you will see a sign where it indicates that you are in the southernmost location in all of Europe with the Mediterranean on one side and the Atlantic on the other. ( Google Maps)
Mirador El Estrecho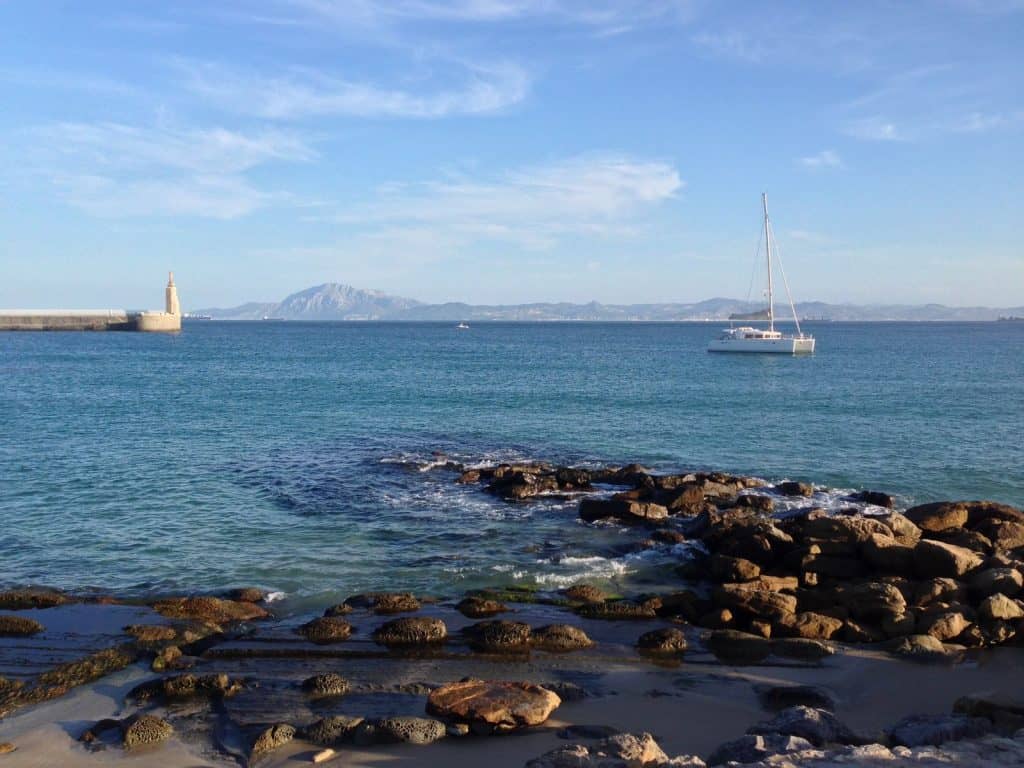 The Mirador El Estrecho is located about 6 km from the historic center of Tarifa, making it ideal for a walk without getting too tired. Visiting this place is very worthwhile, especially for the impressive views that you can enjoy, since from there you can see the coast of Africa and the Jebel Musa, one of the Pillars of Hercules. They will take your breath away! ( Google Maps)
The ruins of Baelo Claudia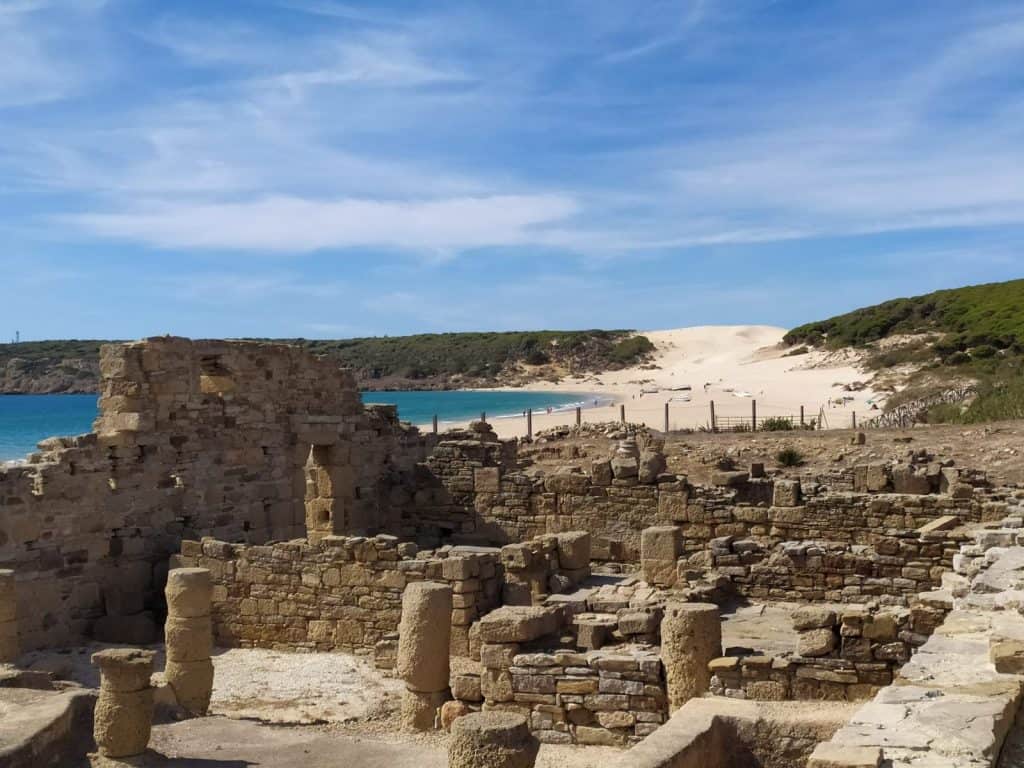 These famous historical remains are found in Bolonia and are an important Roman architectural vestige. There you will discover the remains of an old basilica, a Roman theater and some salting workshops and the manufacture of a delicious sauce called garum. ( Google Maps)
Puerta de Jerez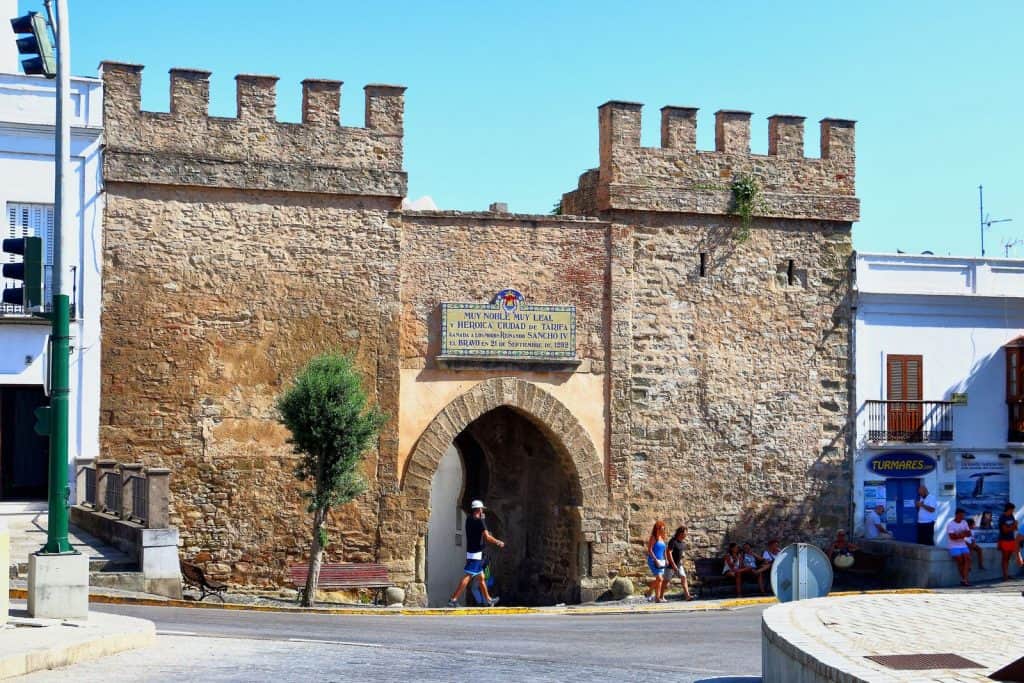 The Puerta de Jerez is one of the most relevant and emblematic monuments of Tarifa, it is an arch that serves as a passage for the Old Town and the Food Market. It is tremendously beautiful to walk through its streets, some of them really narrow, and see the traditional whitewashed houses, in addition many of these streets are full of bars where you can take a break and have a snack and then continue with the route through Tarifa.